"D59's Got Talent" Wows the Audience
"I think that the reason for its success is largely due to the fact that, though the Foundation sponsors this event, it is not about us; it is about the kids. The students are the stars, the emcees are their teachers (all D59 alumni), and the crew that works and sits with the students, and is backstage cuing and encouraging them, are all high school and college alumni. When they receive their award, it is from a teacher or staff member who, just like them, was a student in CCSD59 schools. It is a celebration of the students. Kids are always the recipe for success, because they are why we are doing what we do."
-Jayne Wilkins-Scott, D59 Foundation Member and D59's Got Talent Organizer
The fourth annual D59's Got Talent event, sponsored by the D59 Education Foundation, brought together both classical performance arts and more alternative talents. As in former years, there was a variety of talent on display at the show, including: piano, violin, vocal solos and groups, ballet, dance, gymnastics, tap-dance performances, demonstrations of rhythm pen-tapping, rubik's cube, magic, and light-up hula hooping.
---
This year's top three award winners were:
1st Place: Jenevieve Campise, first grader at John Jay, who performed with a glowing hula hoop to "Cha Cha Slide" by DJ Casper
2nd Place: Jenice Ryoo, fifth grader at Forest View, who played "La Fileuse-At the Spinning Wheel" by Burgmuller on the piano
3rd Place:  Mikayla Walsh, fifth grader at Juliette Low, who sang "Eyes Wide Open" by Sabrina Carpenter
---
The talents of the students off the stage were also prominently featured at the show. The beautiful artistry of students who donated their original art pieces to help raise money was another highlight of the evening. The winner of the "cover contest" this year for designing the program cover was Sara Hromada, a third grader from Clearmont.
Former CCSD59 students played a huge role in the event, acting as emcees, volunteers, and set-up crew. Retired teachers and administrators and parents of CCSD59 alum helped with judging, acted as stage crew, and helped create all of the bountiful raffle baskets. Community partners made considerable donations for raffle prizes and participant gift bags.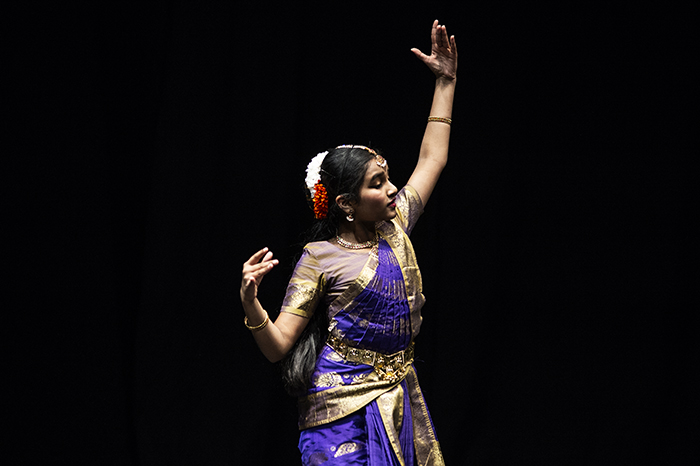 "We have a lot more donations this year from new and different businesses," said Wilkins-Scott. "We even had several of the new ones ask us to be sure to keep them in mind for future donations, because they wanted to donate to our district. That speaks volumes!"
Kids are always the recipe for success, because they are why we are doing what we do.

– Jayne Wilkens-Scott
While the final tally of profits from the show are not available yet, Wilkins-Scott said the event had raised $1,400 in ticket pre-sales alone. All proceeds from the event will be used by the foundation to fund grant requests, which directly benefit the district's students. Grant requests that have been funded by the proceeds from previous years have varied greatly, from allowing students to see a live theater performance to providing additional equipment to adding more books to the school library.
As is the case every year, the biggest highlight of the event was provided by the students themselves, who stood out not only for the hard work they put into their performances, but for their excellent behavior throughout the event. Wilkins-Scott said the pre-show rehearsal went seamlessly because the students "were all so cooperative, respectful, and followed directions, it was just perfect."  From their creative costume decisions to the support and kindness they showed by cheering their competition, the students truly took ownership of the event and were the stars of the show.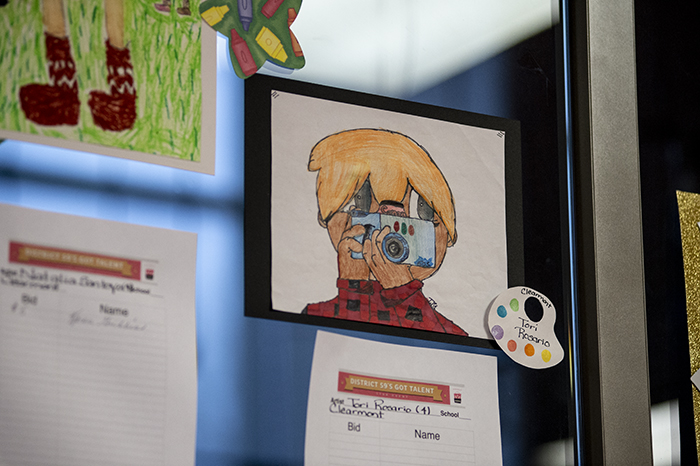 Wilkins-Scott says that being part of this event also inspires the students to perform their best, and they work hard to improve and refine their talents so they can come back and perform again. Five students at this year's show are repeat performers, and the students expressed how much they enjoyed coming back again to share their talents on stage.
"Nothing makes me happier than putting together an event that will be a special memory in the lives of students involved," Wilkins-Scott said. "Knowing that the Foundation is able to turn this excitement into a way to provide special learning experiences in classrooms throughout District 59 is very gratifying."