Duch Świąt rozkwita w CCSD59
Grudzień to często czas, kiedy zastanawiamy się nie tylko nad wydarzeniami, które miały miejsce przez cały rok, ale także nad tym, jak na nie zareagowaliśmy. Grudzień to także tradycyjnie czas, by być wdzięcznym za wiele rzeczy, które zbyt często przyjmujemy za pewnik, od jedzenia i czystej wody do dbania o naszych bliskich. Możemy także pomyśleć o tym, ilu ludzi, poczynając od naszego sąsiada, na ludziach na całym świecie kończąc, nie może sobie pozwolić na luksus traktowania tych rzeczy jako oczywiste.
Wiele osób na całym świecie miało bardzo trudny rok: czy to z powodów globalnych, jak klęski żywiołowe, czy osobistych, takich jak utrata pracy lub choroba, ale jeden stały motyw pojawiał się wśród uczniów, personelu, rodzin i społeczności CCSD59: Chcemy pomóc. Przez cały rok społeczność CCSD59 łączyła się, by pomagać ludziom w potrzebie na różne sposoby, od zaopatrzenia ofiar huraganów w niezbędne artykuły getting supplies to hurricane victims na całym kontynencie, po pomoc w sfinansowaniu windy dla lokalnej hali VFW znajdującej się w pobliżu szkoły.
W tym miesiącu, być może nawet bardziej niż w jakimkolwiek innym, jesteśmy świadkami zadziwiająco częstego okazywania współczucia, pracy zespołowej i wielkoduszności uczniów, personelu, rodzin i społeczności CCSD59. Trudno wymienić wszystkie te wspaniałe akty dobroci, które wykonaliśmy, aby rozjaśnić życie innych w ten świąteczny czas, a przecież nasza poniższa lista prezentuje tylko małą część tego, co zrobiliśmy. Może jednak ujrzenie tego, że duch świąt żyje wśród nas i ma się dobrze nie tylko na świecie, ale także w Twoim najbliższym sąsiedztwie – rozgrzeje Twoje serce w tę chłodną porę roku.
---
Admiral Byrd
W dniach 18 i 19 grudnia kadra szkoły Byrd sponsorowała Byrd Holiday Shop (Świąteczny Sklep w Byrd), ofiarowując artykuły, które uczniowie starannie wybrali jako prezenty dla swoich rodzin. Kadra Byrd pomogła także uczniom w wyborze i pakowaniu prezentów dla każdego członka rodziny, który mieszka w ich domu.
---
Brentwood
Uczniowie Brentwood przygotowali kartki świąteczne z życzeniami, które zostaną rozdane hospitalizowanym dzieciom w okolicy Chicago za pośrednictwem organizacji non-profit Cards for Hospitalized Kids. Brentwood miał także Rękawiczkowe Drzewo, Mitten Tree, w którym członkowie personelu kupowali karty podarunkowe a które będą rozdane potrzebującym rodzinom.
---
Clearmont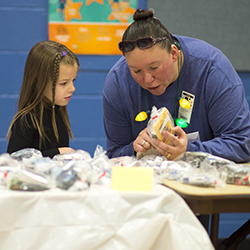 W dniu 6 grudnia w Clearmont odbyło się rodzinne świętowanie, by pokazać tradycje wielu rodzin poprzez wyroby rzemiosła artystycznego. Uczniowie wybrali i zabrali darmowe książki do domu, niektóre o tematyce świątecznej, aby nieustająco promować czytanie w domu. Rodziny biorące udział w wydarzeniu wspólnie wykonały także kartki i ozdoby, aby pomóc dzieciom chorym na raka w szpitalach Comer i Edward. Od 6 grudnia do 20 grudnia uczniowie Clearmont będą nadal przygotowywać kartki świąteczne, a także sponsorować projekt lego dla Ronald McDonald House, Comer Hospital i Edward Hospital w celu zapewnienia dzieciom zabawek.
8 grudnia Clearmont otworzył swój sklep świąteczny, gdzie wszyscy uczniowie mogli kupić prezenty dla swoich rodzin po bardzo niskich cenach, za 1 $ lub mniej.
13 grudnia uczniowie pierwszej i drugiej klasy zaprezentowali dwa świąteczne koncerty, aby wprowadzić społeczność Clearmont w świąteczny nastrój: jeden koncert w ciągu dnia dla uczniów i jeden wieczorny dla rodziców.
---

Devonshire
W dniu 11 grudnia uczniowie Devonshire wystąpili dwukrotnie podczas Zimowego Koncertu Chóralnego: raz dla uczniów w ciągu dnia i drugi raz dla ich rodzin wieczorem. Program współczesny zatytułowano "Jak wytresować renifera, aby latał" Teresy Jennings i Karla Hitzemanna, a uczniowie świetnie się bawili, prezentując program i wprowadzając publiczność w świąteczny nastrój.
---
Early Learning Center
14 grudnia Organizacja Rodziny i Nauczyciele w ELC sponsorowała świąteczną wymianę książek, w ramach której uczniowie ELC wybrali darmową książkę do zabrania do domu. Książki zostały hojnie przekazane przez personel ELC, rodziny i członków społeczności.
18 grudnia ELC realizowało również program Secret Angel, czyli "tajemniczy anioł", w ramach którego pracownicy ELC "adoptowali" rodzinę lub dziecko z rodziny ELC i dostarczali im zarówno potrzebne przedmioty, jak i prezenty.
---
Forest View
W dniu 7 grudnia samorząd uczniowski szkoły Forest View oraz członkowie kadry kontynuowali swoją coroczną tradycję zakupów książek i zabawek dla potrzebujących rodzin.
W dniu 14 grudnia uczniowie oraz Organizacja Rodziny i Nauczyciele z Forest View wspólnie przygotowali obfite kosze żywności dla potrzebujących rodzin. Żywność, którą napełniono kosze była zbierana przez uczniów, rodziny i członków personelu przez kilka tygodni.
---
Friendship Junior High
18 i 19 grudnia pracownicy szkoły Friendship sponsorowali swój Snowflake Store, czyli Sklep Płatek Śniegu. Przekazali pieniądze i różne prezenty, aby umieścić je w świątecznym "sklepie", mieszczącym się w sali konferencyjnej budynku. Rodziny kwalifikujące się do otrzymania pomocy mogły wybrać trzy przedmioty dla wszystkich swoich uczęszczających do szkoły dzieci, a prezenty były również pięknie zapakowane przez personel – bezpłatnie.
---
Grove Junior High
Z okazji świąt szkoła zaproponowała następujące wydarzenia:
Coroczny sklep Płatek Śniegu, czyli Snowflake Store – mający już ponad 10-letnią tradycję w szkole; pracownicy Grove hojnie przekazali pieniądze i prezenty dla sklepu, w którym rodziny znajdujące się w potrzebie mogą kupować prezenty dla swoich uczniów. Personel również zgłasza się na ochotnika do prowadzenia sklepu.
Akcja Zbiórka Żywności Samorządu Uczniowskiego – samorząd uczniowski z Grove zorganizowała zbiórkę żywności z darowanych przedmiotów, które przyniosły korzyść zarówno ich własnemu Sklepowi Płatek Śniegu, jak i Spiżarni Żywności Elk Grove.
Straż Pożarna Świąteczny Posiłek – Departament Straży Pożarnej w Elk Grove współpracuje z koordynatorem d/s kontaktów ze środowiskiem ze szkoły Grove, aby zapewnić smaczne świąteczne posiłki dla rodzin, które ich potrzebują.
Akcja Ekspres Polarny – przy pomocy szkoły i koordynatora z Grove, uczniowi, który walczy z poważną chorobą, zapewniono możliwość udziału w "Operacji Ekspres Polarny". Uczeń pojechał samochodem strażackim do Rosemont, aby zobaczyć przedstawienie przygotowane przez wolontariuszy na podstawie filmu "The Polar Express".
Zbiórka prezentów przez Antlers Gift Box – pracownicy ze szkoły Grove i z Gazety Antlers sprzedali pudełka na prezenty zrobione przez personel Antlers. Pudełka zostały ponumerowane, a wybierane losowo numery pozwalały otrzymać ładne, przekazane jako donacje nagrody. Pieniądze zebrane podczas imprezy zostały przekazane fundacji Ronald McDonald House.
Zimowe koncerty – Grove również wykonał kilka świątecznych koncertów w dniach 7, 12 i 14 grudnia, w których mogli uczestniczyć rodzice i uczniowie.
---
Holmes
W dniu 12 grudnia uczniowie z Holmes dwa razy zaprezentowali swój wieczorny koncert zimowy i chóralny dla swoich rodzin, aby podzielić się świąteczną radością.
W dniach 19 i 20 grudnia Holmes przekształcił swoje centrum gimnastyczne w swój coroczny Sklep Płatek Śniegu (Snowflake Store), wraz ze świąteczną muzyką i smakołykami. Coroczne wydarzenie pozwala zakwalifikować rodziny do "sklepu", w którym mogą wybrać maksymalnie trzy przedmioty dla swoich dzieci/uczniów jako świąteczny prezent.
---
John Jay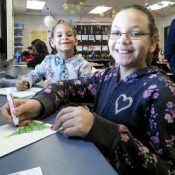 W dniu 20 grudnia, uczniowie klasy piątej z John Jay wniosą świąteczną radość do Heritage Senior Care w Elgin, ośrodka opieki dla emerytów. W trakcie wizyty uczniowie będą spędzać czas z mieszkańcami, śpiewać dla nich piosenki, rozdawać kartki świąteczne wykonane podczas grudniowych obchodów PBIS oraz dostarczać potrzebne skarpetki, koce i bambosze, które zostały zebrane na kilka tygodni przed wizytą.
---
Juliette Low
W dniach 12 i 13 grudnia kwalifikujące się rodziny z Juliette Low skorzystały z potrzebnej i pożądanej pomocy dla każdego dziecka poniżej osiemnastego roku życia w ich domu. Rodziny te zostały przypisane sponsorom z ramienia społeczności, którzy będą kupować prezenty. W tym roku Juliette Low pomoże 82 rodzinom, w sumie 230 dzieciom w przyjemnym spędzaniu świąt.
W dniu 15 grudnia szkoła Juliette Low zorganizowała Wielokulturowy Świąteczny Posiłek i Zabawę Taneczną na rzecz pomocy w razie katastrof żywiołowych. Rodziny dołączyły do ​​wielokulturowego posiłku, dzieląc się różnorodnymi potrawami, a uczniowie Low mogli wziąć udział w zabawie tanecznej w sali gimnastycznej. Uczniowie znaleźli sponsorów, którzy zobowiązali się przekazać określoną kwotę za każdą zatańczona piosenkę. Wszystkie dochody zostały przekazane na rzecz UNICEF, aby pomóc osobom dotkniętym przez różne klęski żywiołowe, które miały miejsce w ciągu roku.
---
Ridge
W dniach 13-15 grudnia szkoła Ridge miała swój sklepik świąteczny czyli Holiday Shoppe, utworzony przez Organizację Rodzice Nauczyciele. Holiday Shoppe zapewniło uczniom możliwość zakupu na miejscu prezentów świątecznych dla swoich rodzin.
Ridge zaproponował także program Secret Angels, w ramach którego personel ofiarował prezenty lub pieniądze, aby zapewnić prezenty dla rodzin w potrzebie. Dwadzieścia rodzin z Ridge otrzymało pomoc w postaci ofiarowanych darowizn.
W dniu 18 grudnia FTO z Ridge sponsorowało świąteczne rozdawanie książek, a wszyscy uczniowie w całej szkole, a także w przedszkolu, otrzymali bezpłatną książkę.
---
Rupley
Pracownicy Rupley sponsorowali wakacyjny wyjazd, w którym pracownicy dostarczyli pieniądze i prezenty, aby pomóc potrzebującym rodzinom z Rupley. Rodziny te otrzymały zabawki, gry, potrzebne przedmioty i / lub karty podarunkowe. Pracownicy koordynowali całe wydarzenie, w tym zakupy i pakowanie prezentów i dystrybucję paczek dla rodzin.
Uczniowie z Rupley zapewnili także radosną świąteczną muzykę na sezon zimowy. W dniu 2 grudnia chór klasy czwartej i piątej zagrał w Friendship Park Conservatory podczas ich świątecznej imprezy sponsorowanej przez Mt. Prospect Park District. Natomiast 15 grudnia uczniowie Rupley zapewnili obsługę muzyczną w swojej szkole, podczas ceremonii wręczenia nagród PBIS. Zespół / orkiestra z klasy piątej również wystąpił we własnej szkole dla uczniów w Rupley w dniu 18 grudnia.
---
Robert Frost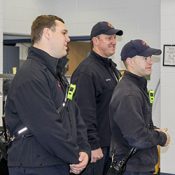 Uczniowie pierwszej i piątej klasy ze szkoły Frost mieli swoją roczną wyprzedaż zimową Annual Winter Wishes Sale, podczas której uczniowie organizowali i ułatwiali sprzedaż "życzenia z cukierkowej laski" (candy cane). Uczniowie kupowali laskę cukierkową – dostarczaną uczniom ostatniego dnia przed zimowymi feriami – dla kogoś innego w szkole. Wszystkie wpływy są przekazywane na godny cel; w tym roku wybrano Departament Straży Pożarnej Mount Prospect, aby pomóc w finansowaniu zbiórki zabawek dla potrzebujących rodzin. W dniu 13 grudnia strażacy przybyli do szkoły, aby osobiście odebrać darowiznę i podziękować uczniom.
---
Salt Creek
W dniu 18 grudnia, w Salt Creek pojawił się sklep z zabawkami dla dzieci czyli Kids' Korner Gift Shoppe, w którym uczniowie mogą zrobić zakupy za pieniądze przyniesione z domu (10 $ lub mniej), aby wybrać i kupić drobne upominki dla przyjaciół i rodziny.
W dniu 19 grudnia, Salt Creek miał swój własny zimowy sklepik świąteczny, czyli Winter Wonderland Holiday Shop. Roczna zbiórka zabawek, we współpracy z Harper College, pozwala kwalifikującym się rodzinom na wybór prezentów dla swoich uczniów w Salt Creek z okazji świąt. Prezenty są również ładnie zapakowane – bezpłatnie.