Summertime Schooling
Summer is finally here, and it's the season of flip-flops, swimming pools, popsicles, and visits to the park. At CCSD59, it's also still the season of learning – while having some summertime fun.
On Thursday, June 7, the first of many Family Summer Nights occurring over the summer took place at Robert Frost Elementary. The kickoff event was well attended- especially considering the official school year just ended last week.
The first event offered great activities focused on June's theme of collaboration. The evening featured literacy activities, including a book swap where students could choose a book from a huge selection and an area for families to read together and write and draw their own stories. Science, technology, engineering, and math (STEM) activities were also part of the evening's activities, and supplies were provided to help families create the longest paper chain possible together and play a math-based dice shaker game.
"It was such a pleasure to see families out together where everyone can just have fun, engage in some learning, and simply connect in a casual and comfortable environment," said Robert Frost Principal Susan Savage.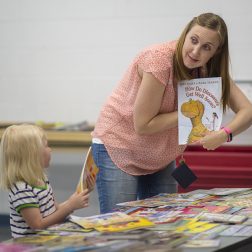 The event was just the first of twenty-seven that will be hosted at various CCSD59 schools all summer long. All CCSD59 families can attend as many events as they choose at any of the hosting schools.
The Family Summer Nights program was created to intensify summer at-home learning to reach more students and families and prevent the loss of learning over the summer. Title 1 funds were designated for summer family engagement, which allowed the expansion of the program idea.
The three themes selected for June, July, and August are collaboration, creation, and perseverance. Each event will feature a variety of different activities in literacy, math, social-emotional learning (SEL), movement, and others that work on that month's theme. The activities planned are not just for learning purposes, but are also a way to bring families together during the summer months for some fun and to stay in touch.
Some of the upcoming Family Summer Nights will include: creating a comic strip after reading with a partner, a math scavenger hunt, a stacking cups team-building activity, a hula hoop challenge, a Spanish storyteller, a visit from a lizard, and continued book swaps where students select a book to take home and then swap it the next time they attend a Family Summer Night. A team of CCSD59 professionals, including teachers, coaches, and administrators, worked together to provide fun and meaningful experiences for families over the summer months.
Light snacks are also served at the events to keep families hydrated and comfortable throughout the activities.
An additional perk to attending the events was made possible by a generous donation from a CCSD59 community partner, who donated a new Chromebook that will be raffled off after all the Summer Family Nights are completed. Every time students attend one of the events, they get a chance in the raffle for the Chromebook prize, so the more events they attend, the more chances they have to win.
Maureen McAbee, assistant superintendent of instruction, said she hopes that families will take advantage of these great opportunities to keep their children engaged in learning over the summer months. "We are fortunate to be able to extend learning for both students and families over the summer months and to maintain the home/school connection," she said. "Our team of teacher leaders from across the district worked together to efficiently plan and prepare for the Summer Family Nights, and we hope they are well-attended and enjoyed by our families."
Interested in attending Family Summer Nights? There are many more in weeks to come – see the schedule here.